PNHRS Week 2018
Every second week of August, the health research community celebrates the Philippine National Health Research System (PNHRS) Week. In 2018, the theme of the 12th PNHRS Week celebration is "Research and Innovation for Equity in Health," set for 6-9 August 2018 at the CAP-John Hay Trade and Cultural Center, Baguio City.
The conference served as a platform for participants to discuss the current situation, challenges, and advancements related to improving health and equity through reinforced health research and innovation in the regions and local communities.
The conference was organized by the Philippine Council for Health Research and Development in collaboration with the Cordillera Regional Health Research Development Consortium.
Program
The Keynote Speaker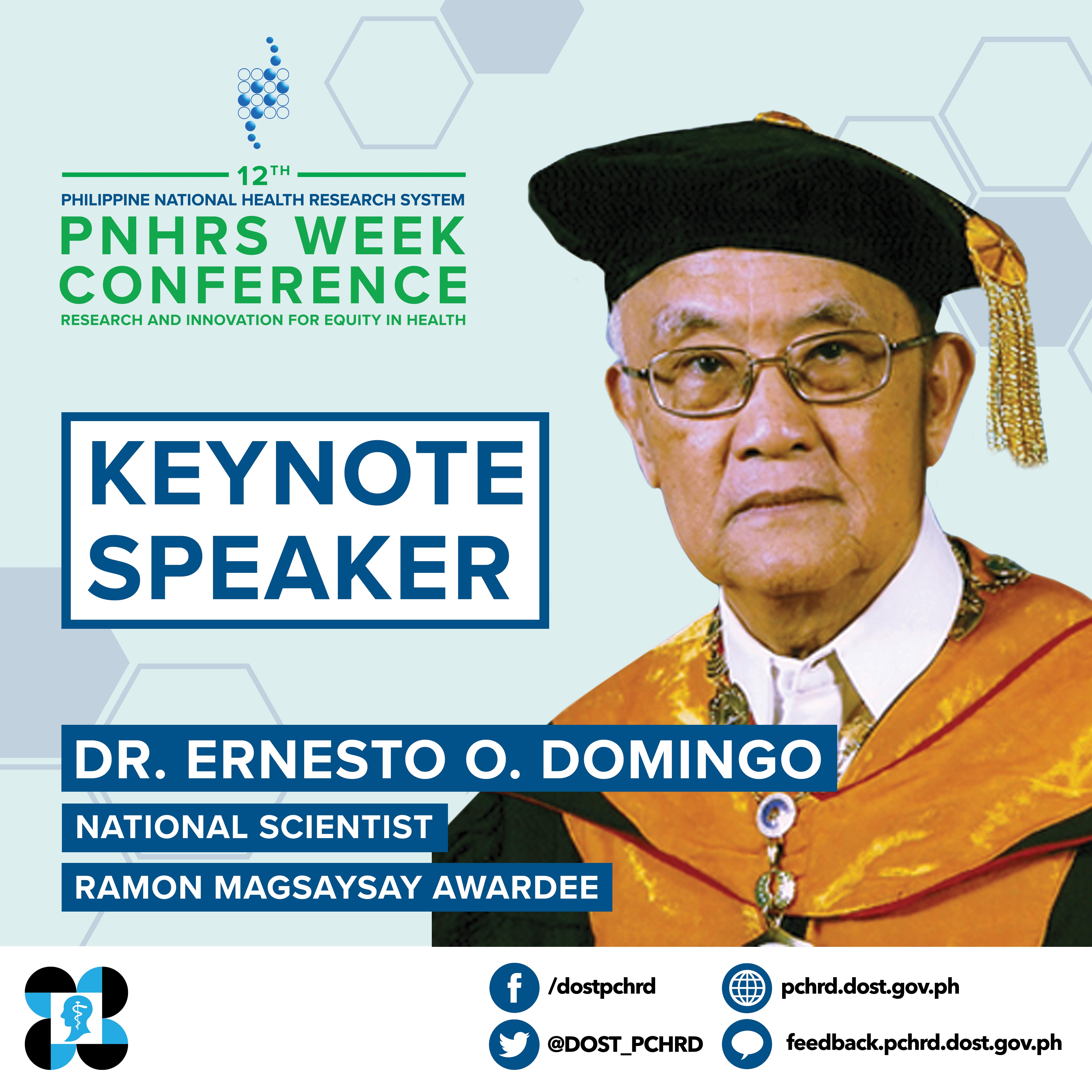 Dr. Ernesto O. Domingo received his medical degree from University of the Philippines (UP) Manila and acquired his specialization in internal medicine at the Philippine General Hospital (PGH). He further specialized in Gastroenterology and Hepatology at Case Western Reserve University in Cleveland, Ohio.
Upon his return to the Philippines, Dr. Domingo spent over four decades in UP Manila as a researcher, teacher, chancellor, and university professor emeritus. He founded, along with a number of colleagues, the Universal Health Care (UHC) Study Group in the hope of advancing universal healthcare in the country through research and advocacy. The group's efforts became the basis for the Department of Health's Universal Health Care Program dubbed "Kalusugang Pangkalahatan."
An expert and luminary in his field, Dr. Domingo conducted studies on schistosomiasis and its role in liver disease and the epidemiology of Hepatitis. He led and organized the Liver Study Group (LSG) of the University of the Philippines which has done major research on liver cancer, viral hepatitis, schistosomiasis japonica, and liver cirrhosis. His group led groundbreaking studies determined that immunizing newborns against hepatitis B within 24 hours from birth could reduce the probability of acquiring hepatitis by 95%.
He received distinguished honors and recognitions throughout his career, including being elected as Academician of the National Academy of Science and Technology (NAST) in 1992, the Civil Service Commission (CSC) Dangal ng Bayan Award, Science Achievement Award in Medicine from the National Researchers Council of the Philippines (NRCP), among others. He was given the rank and title of National Scientist of the Philippines, for his work in Internal Medicine and Gastroenterology, in 2010 and received international acclaim when he was honored with the Ramon Magsaysay Award in 2013 for his work in addressing the challenges in the public health system.
Today, Dr. Domingo has a private medical practice and holds clinic in Manila's best hospitals. He honors service to the nation through his work as an adviser and consultant to major research projects in health and healthcare. Even at his age, as an academician, a doctor, a researcher, a father, and a husband, Dr. Ernesto O. Domingo soldiers on.